Hello, my fellow SWA Ultimate customers! Here's a story of how trusting others can help us save time and money…
We visited Shinagawa in Tokyo, Japan, and we needed to get to Harajuku for the Oriental Bazaar, and then to Akihabara for the anime store.
The helpful people in the hotel told us to go to the Shinagawa train station and take the green Yamanote line to Harajuku. We could later take the same train going to Akihabara.
Although we did not have a map at this point, we went ahead and hoped for the best.
Riding trains in Japan is fairly easy. At first, it can feel quite intimidating because there are so many people walking around you, and they all look like they know what they're doing.
Fortunately, there are enough signs and the directions are quite easy to follow.
We soon reached Harajuku and visited the Oriental Bazaar and Omotesando Hills, then walked back to the Harajuku station. We weren't sure if we were at the correct platform for trains going to Akihabara.
So I approached a group of three women and asked for directions.
It turned out that they were also tourists, and that they couldn't speak in English.
So we just tried to communicate via sign language, and eventually understood that whether we ride the train on the right, or the train on the left, it wouldn't matter because either side would eventually reach Akihabara.
The train arrived, and we got on.
After a few minutes, an elderly lady walked to me inside the train.
I'm going to Akihabara.
"That's where I'm going also," I replied.
Get off at Yoyogi, then transfer to the yellow train to Akihabara.
(Oh, she wasn't going to Akihabara afterall. She probably just overhead me conversing with those three women awhile ago.)
"Yoyogi? Yellow train?", I asked.
Yes, that's right.
And with that, she smiled and walked back to the pole she was holding on to a few seconds earlier.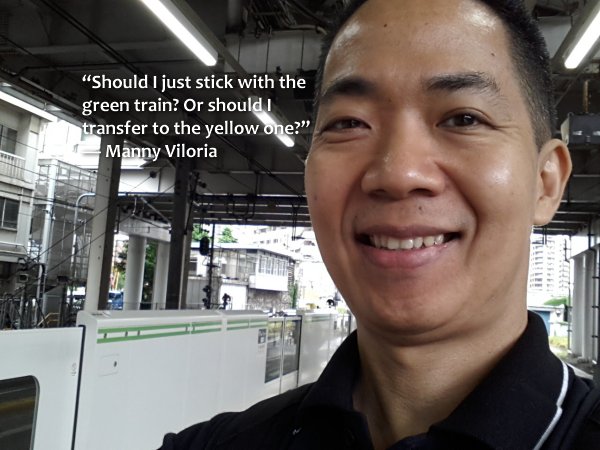 Soon, our train approached Yoyogi station, and the kids asked if we were going to believe what the lady said.
I nodded and told them: "Let's go down na here. Bahala na."
I looked back at the smiling be-spectacled lady and said Thank You, before exiting the train.
So where's the Yellow train line?
Admittedly, we were nervous that someone was probably just having a good time with us. We even considered taking the next Green line train to Akihabara.
We walked around and eventually found the yellow train that goes from Yoyogi to Akihabara, and breathed a sigh of relief when we found the Electric Town exit.
So, did we really save time?
The following day, we got hold of a map:
As you can see, if we used the green Yamanote line to get from Harajuku to Akihabara, we would have used a longer route (14 stops instead of just 8 stops).
And because we trusted a stranger and did what we had never done before (transfer to a different-colored train), we saved time and money.
Of course, it would have helped if we got more information and did a bit more reading. That way, we would've learned about the JR Chuo Line.
Since we trusted in the kindness of a stranger, we reached Akihabara faster and spent less on train fare.
This reminded me of April 2012 when I joined SWA Ultimate.
I had watched a video of Coach Kiko Javier back then, and asked him questions about the Supreme Wealth Library of ebooks.
Should I trust that reading ebooks can help me save time and money?
Should I trust that I'll actually download ebooks after I deposit in the BDO account of Francis Chaves?
With P2,500 I made a leap of faith.
And I found some ebooks, read them, and USED the information. In the process, I was able to save time and money.
I have also achieved the following:
Connected with more people
Acquired even more tips, especially in the field of online marketing
Experienced life-changing events, such as additional travel opportunities
Enjoyed more time freedom
Developed more skills that help us keep growing and succeeding
So if you also want to save money, or if you want to reach your desired destination faster, you sometimes need to trust strangers.
Check out these Pinoy success stories now.
Kind regards,
Manny Viloria
Your Fellow SWA Customer