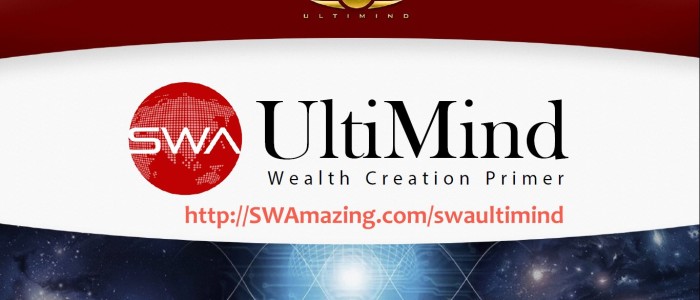 You may download the free SWA UltiMind Wealth Creation Primer PDF file at either of the following download links:
SWA UltiMind is a powerful mind development training program aimed at helping regular people create and attain true and lasting wealth in all areas of their lives. Most people do not know what wealth truly is, thus, are not able to create nor sustain it.
The common idea about wealth: Wealth is based on results.
You will become wealthy if you're able to accumulate tremendous amounts of cash and assets.
The profound truth about wealth: Wealth causes the results.
If you are wealthy, then you will accumulate tremendous amounts of cash, assets, and the other things your heart desires.
Genuine wealth must first begin within ourselves before we can attract, experience, and enjoy its full results in both the short term and long term.
Notice how a large percent of 'instant millionaires' like lottery winners tend to go back to financial poverty again?
How about those who are financially rich but are miserable in the other areas of their lives?
The root cause of their misery is having a weak inner wealth foundation.
On the other hand, a large percent of 'rags-to-riches-to-happiness' people first developed their inner wealth long before they manifested its results.
The SWA UltiMind program, however, provides you with the distinct advantage of applying the two (2) steps of wealth creation simultaneously!
The SWA UltiMind product pack develops your inner wealth foundation for all areas of your life.
The SWA UltiMind pay plan jumpstarts your outer wealth manifestation in the area of money.
The SWA UltiMind Mindset Development Course of Francis Chaves and the Supreme Wealth Alliance Philippines, Inc (SWAPI) is the ultimate inner wealth development tool you need because it focuses on uplifting and enhancing that part of you responsible for creating and sustaining wealth…
…YOUR MIND!
And now we're excitedly awaiting the release of the training videos, so that we can share with you our SWA UltiMind Product Review. Stay tuned for that!
Kind regards,
Manny M. Viloria
P.S. To help you successfully market products and services online, check out the training at http://AyawKongMagBlog.com
P.P.S. When you enjoy earning a semi-passive income from the internet, do consider investing 20% of that in the stock market. Check out the step-by-step guide at http://TrulyRichPinoy.com/tara/