Some friends have been asking about how to easily promote SWA Ultimate on their own Facebook walls. Among their other special requests is the "Pwede ba, no blogging?" approach. They want the simple, copy/paste ads style.
So, here it is!
IMPORTANT: If your SWA username is not mannymviloria, then please enter your SWA username in the box below, then click on the "Click Here" button.
Okay, let's get started…
Feel free to right-click on the image below, then click on "Save Image As…" to save the file to your hard disk. You can upload the image to your Facebook wall later.
After you save the above image to your hard disk, go to your Facebook wall and click on your Status box. Then, click on the icon of a camera as shown in the screenshot below: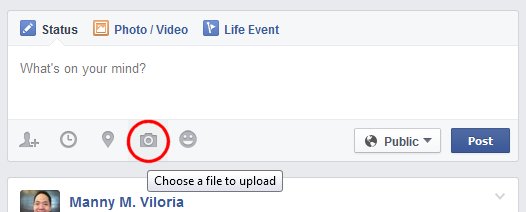 After clicking on the camera icon:
1. Select the image from your hard disk
2. Click the "Open" button, and then
3. Get ready to type something in the box in Facebook that says "Say something about this photo…"
Here's what you can copy/paste inside that Facebook box in your own wall:
Simple LOGIC in #SWA why you must JOIN US! If you have Facebook Account you can USE it to earn EXTRA INCOME kaka-facebook mo dyan :-)
Yeah MORE DOLLARS :-) More Please :-)
http://mannymviloria.swaultimate.com/register
IMPORTANT: Remember to upload the Photo/Image first, before you copy/paste the text portion.
NOTE: This approach is for people who are interested only in the simple and basic copy/paste style of marketing. If you prefer our recommended blog marketing style, please see https://www.swamazing.com/promo-links/
And if you're wondering where to put your extra earnings, try the
Stock Market Investing Tutorials at TrulyRichPinoy.com
In the future, we will ad more easy copy/paste SWA ads here for those of you who are not yet ready to try the more effective Blog Marketing style.
Alam kong ayaw mong mag-blog ngayon, pero someday sigurado tayong magle-level up ka rin sa larangan ng Online Marketing! :-)
To Your Success!
Kind regards,
Manny Viloria
Your Fellow SWA Customer