Thank you for your interest in joining our Super Click journey.
Before proceeding, please check if you agree to the following:
1. You agree to accept the SEC Legal Risk that if ever the SEC asks Pete Nogaliza's KPAN Creciente International Marketing for a Secondary License to Sell Securities (in connection with KPAN's Super Click program), and Pete Nogaliza either does not get a Secondary License to Sell Securities or tells his Legal Team to not contest the Secondary License to Sell Securities requirement, then the company may have to stop its operations until it has that Secondary License to Sell Securities.
NOTE: These online marketing companies are not selling securities. However, there were cases in the past where the SEC considered some online marketing companies as selling Investment Contracts (based on the Howey Test), and required them to get a Secondary License to Sell Securities (similar to what banks and stock brokers do).
Some companies fought back legally and successfully defended their position that they were not selling securities. Others either did not put up a legal fight at all, or were unable to successfully defend their position.
Hence, it is important for you to check with yourself if you are also willing to accept that SEC Legal Risk (which every online marketing company faces).
2. You agree to accept the Website Technical Risk that when the Super Click Creciente International KPAN Group of Companies website gets popular and experiences a surge of visitors, the website may experience slowdown or may even go offline. That means you won't be able to do the 100 clicks per day, and your initial target of completing your clicks within 5 weekdays may need to get adjusted. If the company upgrades its webserver, such webserver speed/memory upgrades may take at least 72 hours to complete.
As of the time of this writing (1/5/2018), we're able to complete the 100 clicks in 15 minutes. Based on our tests with 8 Firefox browser tabs, it takes 300 to 350 clicks to complete the 100 counted clicks (e.g., Load Ad link, Reload link, Click on Tab)
Are you willing to click your mouse 300 to 350 times per day for P300?
If the webserver remains fast and you're able to do those clicks in 30 minutes (depending on your internet connection and the Super Click webserver speed), that's around a net income of P132 per hour. As of 1/5/2018 the clicks can be completed in 15 minutes, which makes the effective net income rate P264 per hour. How much is your hour worth?
3. You agree to accept the Delayed Payout Risk. We've noted that the payout system is manual and does not appear automated. It is possible that when the company gets popular and a lot of people start making Payout Requests, the 7-working days processing time of the KPAN Group of Companies of Pete Nogaliza may no longer be enough.
4. You have read and understood the contents of the Super Click Journey page at http://superclickjourney.OneNegosyo.com
If you accept all of the above, then…
Step 01 — Click Here To Register Your Super Click Account
Step 02 — Click on the Register link (see screenshot below):
Step 03 — In the Sponsor ID box, enter MAN35146, fill up the rest of the details (Name / Email / Mobile Number), then click on the orange check circle (see screenshot below):
Step 04 — Review your Registration Data, check that your Sponsor is MAN35146 – MANNY M VILORIA, and then click on the orange check button (see screenshot below):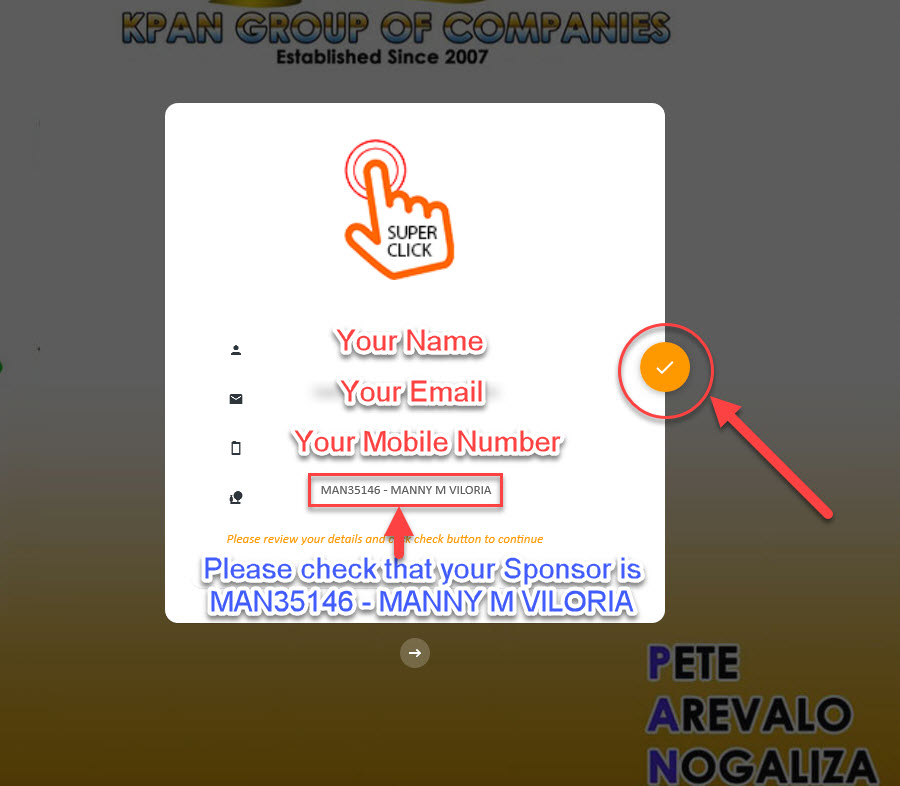 Step 05 — Get a paper notebook and write down your UserID and generated password, and then click on the orange arrow button (see screenshot below):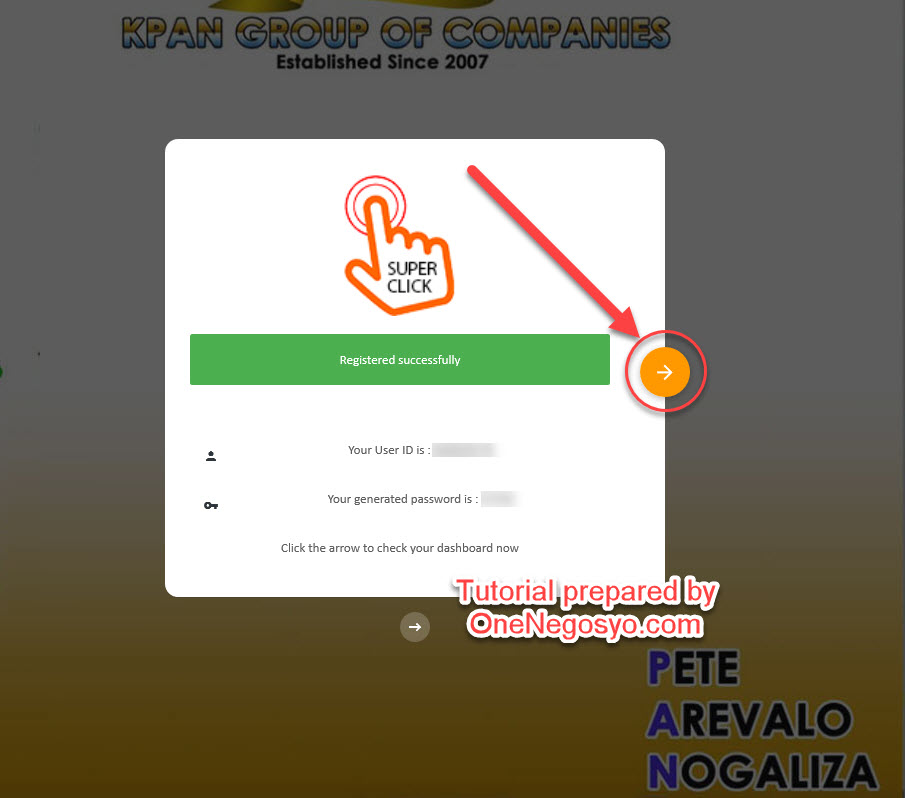 Step 06 — For better security, change your Generated Password. Click on your Name, then click on Settings (see screenshot below):
Step 07 — Enter your New Password, enter the New Password again to confirm (and to avoid typos), enter your Email Address, then click on the orange Save Settings button (see screenshot below). Security TIP: Use a Password that you do not use anywhere else. Choose a password that will exclusively be for Super Click.

Step 08 — Purchase an Activation Code from business owner Pete Nogaliza. One of the options is to deposit P1,000 (per Super Click account) to his BDO bank account, take a photo of your BDO deposit slip, and attach the photo to a message to Pete Nogaliza at https://www.facebook.com/pete.nogaliza.9
BDO SAVINGS ACCOUNT: 00-1240210254 (We've tested this and it works well)
BDO ACCOUNT NAME: PETE A. NOGALIZA
In your Message to Pete, please inform him how many Super Click Activation Codes you want.
(TIP: We deposited P2,000 and told Pete we wanted two (2) Activation Codes. We did this so that our Main Account can have a 1st Direct Referral immediately, because we wanted our Main Account to participate in the Super Click program right away. We do not know him personally, so we just took a risk and deposited the P2,000.)
NOTE: Since Pete Nogaliza is receiving a lot of messages in Facebook, it may take up to 72 hours before he responds to you. Sometimes, he'll respond even faster, depending on the volume of messages he is receiving.
Other Modes of Payment (We haven't tested these; info from Facebook)
Chinabank Account Name: Creciente International Marketing
Chinabank Account Number: 130500001055
Metrobank Account Name: Pete Nogaliza
Metrobank Account Number: 480-3-480-23346-9
BPI Account Name: Pete Nogaliza
BPI Account Number: 003143-4488-34
Palawan / Cebuana / MLhuillier
Pete Nogaliza
09195172444
Step 09 — After you receive the Activation Code(s) from Pete A. Nogaliza, login once more at http://SuperClickJoin.com-review.org (now you know why the paper notebook where you wrote down your New Password is useful). Enter your UserID and New Password, then click on the orange arrow button (see screenshot below):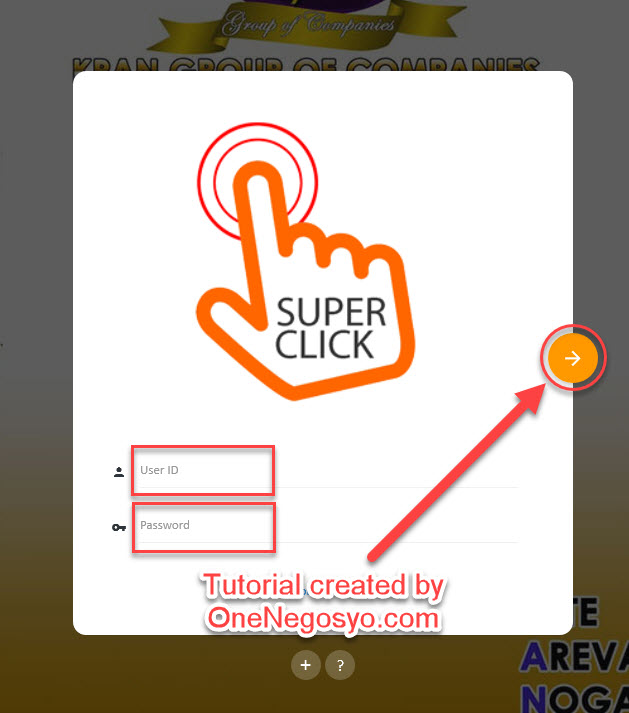 Step 10 — Activate your Super Click Main Account by clicking on the "Click Here To Activate Your Account" link, entering the Activation Code, and by clicking on the orange checkmark button (see screenshot below):
Step 11 — Congratulations for activating your Super Click Main Account! Now send Manny M. Viloria at message at https://facebook.com/messages/t/viloria.net (Sample: "Hi, Manny! I activated my Super Click account UserID ABC12345.") so that we can show you how you can gain access to a private Facebook Mastermind Group where we will share with you our Super Click Tactics and Strategies!
Step 12 — [No Inviting Strategy] If you paid Pete A. Nogaliza P2,000 because you planned to use the 2nd Activation Code for the account where you referred yourself (so that your Main Account can immediately have its own 1st Direct Referral which qualifies your Main Account to participate in the Super Click program), make sure you're logged into your Super Click Main Account, click on the Register New link on the left side of the screen, enter the Name / Email / Phone number of your second account (which makes it your Main Account's 1st Direct Referral), enter the 2nd Activation Code which you purchased from Pete A. Nogaliza, then click on the orange checkmark button (see screenshot below):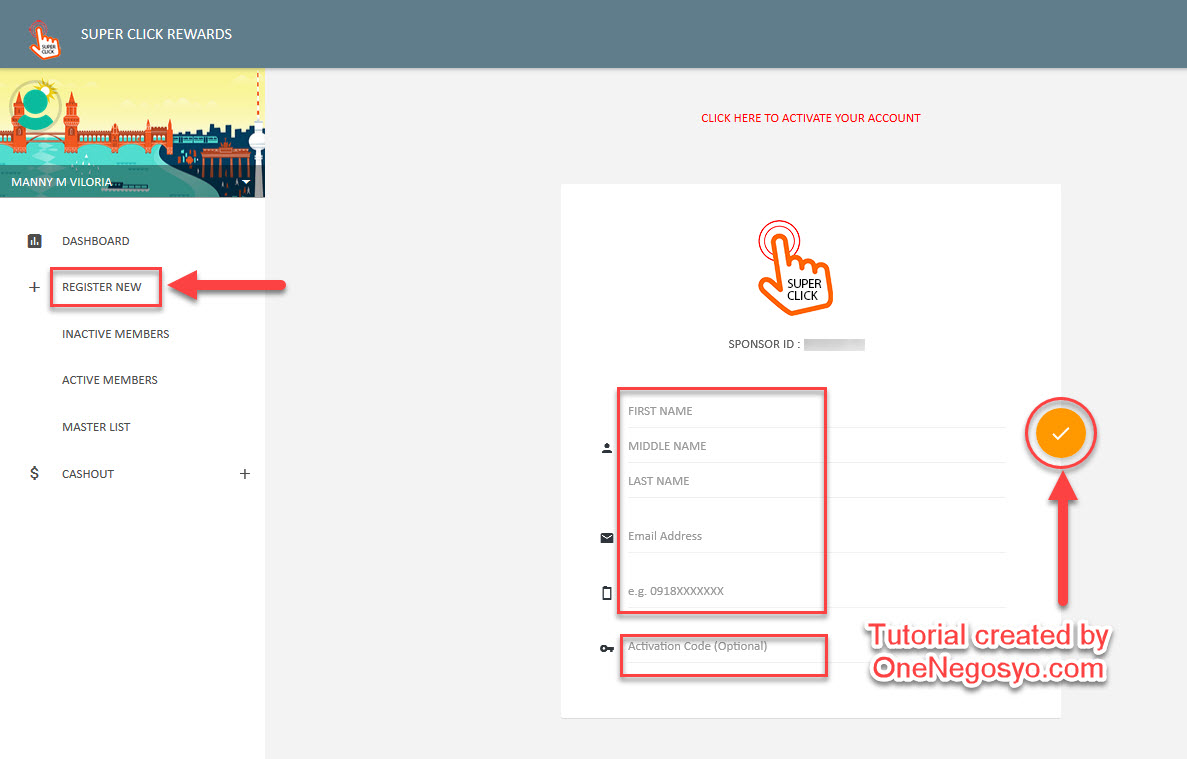 NOTE: According to Pete Nogaliza, you may enter the same Name / Email / Phone data that you used in your Main Account here in your 2nd account.
Our recommendation is use a Gmail address and add a plus superclick number at the end, because it's really better if each of your Super Click accounts will use a unique email address.
For example, if your Gmail address is SampleName@gmail dot com
Your Super Click Main Account email will be SampleName@gmail dot com
Your next Super Click account (which is a self-referred account) will use this email address: SampleName+superclick01@gmail dot com
(Relax! Any message sent to that email address will still land in the SampleName@gmail dot com account, because GMail allows you to add +whatever just before the @gmail dot com part.)
NOTE: There are no spaces between the plus symbol and the phrase superclick01.
So if you will choose to get another Super Click account (so that your Main Account can have 2 direct referrals even if you did not invite others), use the email SampleName+superclick02@ gmail dot com
TIP: It's important to have unique email addresses, so that if ever you forget the password of your specific Super Click account, you can use the "Forgot Password / Reset Password" system. If all your Super Click UserIDs have the exact same email address, the password reset may get confused regarding which UserID password you forgot, because the password reset system will simply ask for your email address.
Do You Want To Start A Successful Online Business?
Lots of people are discovering how to use the internet to gain another source of semi-passive income.
Download your "Marketer's Guide To Digital Selling" ebook now at http://www.OneNegosyo.com, para malaman mo kung paano naaabot ng maraming tao ang iyong mga pangarap sa tulong ng cellphone at social media.
Kind regards,
Manny M. Viloria
TrulyRichPinoy.com – Tara, mag stock market na tayo!