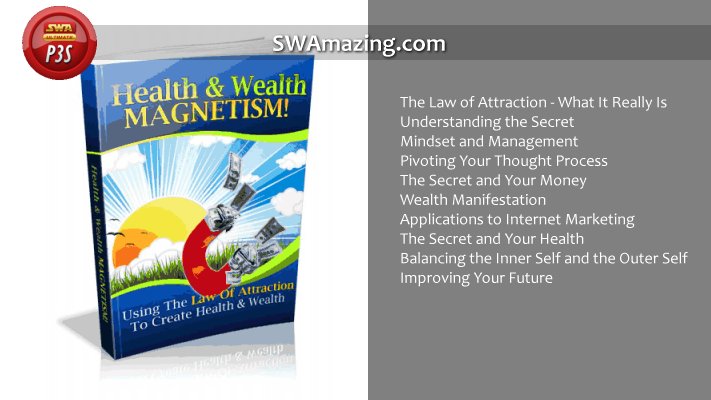 One of the ebooks about the Law of Attraction is the Health and Wealth Magnetism ebook…
You may view the PDF file below, or you may download the file by rightclicking on the PDF link which follows, and then left-clicking on Save File As:
http://traffic.libsyn.com/mannyviloria/Health-And-Wealth-Magnetism.pdf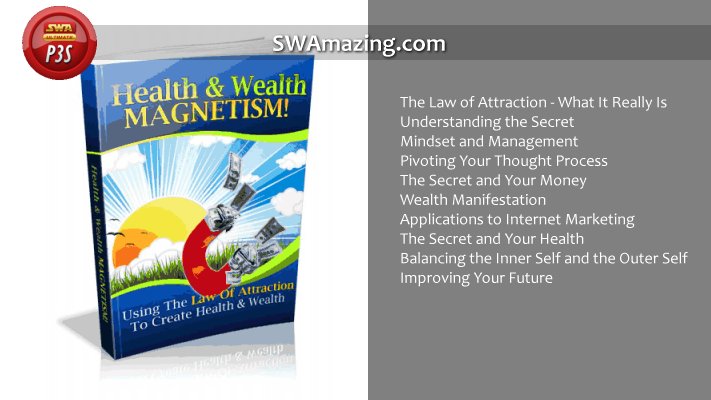 How People Use the SWA Ultimate Ebooks
You can download the PDF ebooks to your desktop, laptop, smartphone, tablet or other mobile device, and read the ebook (assuming you have a PDF reader).
Some of the ebooks are in MS Word .doc format, which you can also read even on your iPad now that Microsoft has released MS Office for the iPad.
You'll need Office365 if you want to edit the .doc files using your iPad.
Aside from reading and teaching what you've read with others, some of the ebooks inside the SWA Ultimate online library allow you to edit the contents and re-package them. Please review the license for guidelines on what you may do with such ebooks.
Here's a sample ebook related to Attraction Marketing, which you can use in your business or career, whether you're into network marketing or even real estate.
For internet marketers, check out the .doc files inside the SWA library and make use of ebook marketing today! :-)
Kind regards,
Manny Viloria
Your Fellow SWA Customer