Here's how to request for your SWA Ultimate commissions (in Philippine Pesos)…
UPDATE: Please see SWA Unlimited (because the info below is for the previous SWA Ultimate program. Thanks!
The key to remember here is that you need to go online and request for payout of your SWA commissions. You can do this by logging into your SWA back office.
NOTE: If you're not yet a SWA member…
» Click here to join SWA via BDO (If you're in the Philippines)
» Click here to join SWA via Western Union
The text instructions on how to get your SWA Ultimate commissions can be found below this video tutorial:

Step #1: Login here using your SWA Ultimate Username and Password.
Step #2: Click on your Name on the upper righthand corner, and then on Account
Step #3: For the Payout Detail, click on the downward pointing triangle found on the right side of the rectangle below the phrase "Payout Detail", then click on the Option in the list that describes how you want to receive your SWA Commissions.
Possible Options are: MoneyGram, BDO, BPI, Union Bank, SmartMoney, Globe GCash, LBC Express, MLhuillier, Cebuana Lhuillier, Payza.
Then enter in the rectangle below your chosen payout destination the details, before clicking on the green Update Account button.
For bank accounts (BDO, BPI, or UnionBank), your full name, branch, and account number are required.

For BDO cash cards, your full name, card number, and cellphone number are required.

For Smart Money, your 16-digit card number is required (NOT your Smart cellphone number).

For Globe GCash, your Globe cellphone number is required (must be registered as a GCash phone number).

For MoneyGram, LBC Express, MLhuillier, and Cebuana Lhuillier, your full name, town or city, and country of residence are required.

For Payza, your registered Payza email address is required.

If the data won't fit in the rectangle below "Payout Detail" (such as in the case of long names in Joint and/or bank accounts), then add the information in the "Address" rectangle (found under "Full Name").
NOTE: You will need to do this only once. There's no need to re-enter all this information every time you request for a Payout, unless you want to specify a different Payout destination.
Step #4: Click on the e-Wallet link on the left side of the screen…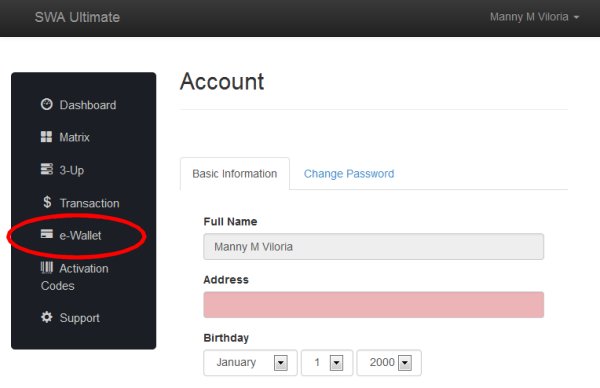 …then scroll down and click on the downward-pointing triangle found on the right of "Transaction Type" and choose "Payout Request (in US $)", before filling-up the Desired Amount (in Dollars).
Then, when you're ready, click on the Submit Transaction button.
Step $5: Please give the SWA Admin up to 18 banking days (weekends and holidays are excluded) before they will deposit your request to your bank account, or before they will remit your commission via LBC or Courier.
Please log into your SWA Ultimate backoffice and check your eWallet page to see the status of your Payout Request.
Some things to be mindful of:
Did you enter your Payout Details accurately?
Are you aware of the Philippine holidays?
BDO bank deposits are one of the most reliable.
And that's how easy it is to get your SWA Payouts. I hope this SWA Ultimate tutorial helps you.
Feel free to SHARE this with your downlines or customers, to help you SAVE TIME since this webpage can do all the explaining for you.
To Your SUCCESS! :-)
» Click here to join SWA via BDO (If you're in the Philippines)
» Click here to join SWA via Western Union
Kind regards,
Manny Viloria